Houten, November 22, 2019 – Today it was finally announced: who may bring the coveted 'Gouden Gieter' (golden watering can) home? Setting for the festive ceremony was the Climate Expo in Houten (Utrecht). None other than ConnectedGreen and Dionysios Sofronas from Aardoom Hoveniers had the honour to receive the awards.
Author: Linde Kruese
The Golden Watering Can for 'Best Product' went to René Voogt from ConnectedGreen. ConnectedGreen helps landscapers and governments to save on watering, project visits and failing plants/trees. The system operates with wirelees sensors which are placed invisibly at strategic locations in landscaping projects. The sensors are available in different lengths to make sure that soil moisture levels are measured at root depth.
Sharing data
Within ConnectedGreen, projects are defined (for example per landscaping project, street or neighborhood). These projects are then divided into different indication trees, planters or beds, fitted with one or more sensors. The sensors are calibrated by entering a plant/tree name and soil type. Data can be shared between contractors (landscaping companies) and clients (governments), including notifications and alerts. This goes for both (too) dry and (too) wet situations. Besides optimization of watering, ConnectedGreen offers insights which can help improving the quality and effectiveness of growing places.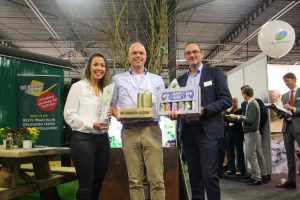 The three finalists in the category 'Best Product': Sharell Hogervorst from Greenmax, René Voogt from ConnectedGreen and Henk Vlijm from Optigrün
The Golden Watering Can
This year for the first time, trade journals 'De Hovenier' and 'Stad+Groen' went on a search for professionals who have developed creative, practical solutions for everyday problems that are caused by climate change. All contestants were judged by a renowned jury of experts, consisting of: Hein van Iersel (editor-in-chief of 'De Hovenier' and 'Stad+Groen'), Lodewijk Hoekstra (tv-host and founder of NL Greenlabel), Egbert Roozen (director VHG), Dick Oosthoek (director Stichting Groenkeur), Ben van Ooijen (CEO/owner of De Tuinen van Appeltern) and Mathieu Gremmen (member of dike board and loco-bailiff of 'Waterschap Rivierenland'). After the announcement, the winners were congratulated by Lodewijk Hoekstra via a Vlog.
Source: Stad+Groen https://www.stad-en-groen.nl/article/31519/connected-green-en-het-drijvende-terras-zijn-de-winnaars-van-de-gouden-gieter-2019